Call 778-471-5999 to order any of our menu items for Take Away.
Weekend Roast
Available Friday & Saturday starting @ 5pm. While quantities last!
Rangeland Meats prime rib roast, yorkie, crispy baby potatoes, fall vegetables, natural jus. (GF)
Intergalactic Pretzels
$6.75
Galaxy hop salt, beer mustard
Crispy Pickles
$10
Cajun seasoned breading & spicy dill ranch.
PFC (GF)
$16.75
AKA: Pickle fried chicken, hot honey glaze, smoked garlic aioli, pickled cucumber
Korean BBQ Short Ribs
$17
Ginger, soy & porter marinated beef ribs, candied jalapeno, sesame slaw
Rosemary & Roast Garlic Focaccia
$7.25
Fresh baked daily, EVOO & aged balsamic
House Fries (GF)
$10
Fresh-cut & twice cooked kennebec potatoes, house seasoning salt, choice of dip
Tuna Ceviche (GF)
$16.75
Sesame lime dressing, cucumber, pickled red onion, radish, chermoula, cilantro, corn tortillas
Prime Rib Yorkies
$16.75
Shaved prime rib, horseradish mayo, green onion, mocha porter gravy
Jalapeno Popper Dip (GF)
$16.75
Fresh jalapeno & 3 cheese dip, tortilla gratin, harissa, cilantro, lime, corn tortillas
Paneer Kebabs (GF)
$13.00
Harissa marinated with peppers, red onion, coconut rice, za'atar, raita & papadam
Classic Poutine
$13.75
Kennebec potatoes, cheese curds, Mocha Porter gravy & fresh parsley
The Texan Poutine
$17.50
Classic poutine with pulled pork, Porter BBQ sauce, fresh parsley
Add: Yummy Rainer Bacon
$3.00
 
Add: Pulled Rossdown Farms Chicken
$6.00
 
Feature Soup
SM $6.50    LG $8.50
Locally & seasonally inspired. Served with focaccia garlic toast
Not So Simple Greens (GF)
$11.50
Mixed greens, shaved carrot, cucumber & radish, candied walnuts, citrus dijon vinaigrette
Pulled Chicken Kale Caesar Salad
$19.50
Chilled Rossdown Farms pulled chicken, rainbow kale, creamy Caesar dressing, Rainer bacon, croutons, shaved Grana Padano
Mediterranean Tuna Salad v2.0 (GF)
$24.00
Sesame crusted Yellowfin tuna, crispy baby potatoes, cucumber, red onion, marinated feta, tomato/olive/caper relish
Carnivore
$22
Chop N Block artisan salami, Gary's pepperoni & Noble sausage, mozza, tomato sauce, fresh basil
Herbivore
$22
Local mushrooms, mozza, marinated feta, basil pesto, fresh basil, truffle oil
The Bee's Knees
$20
Chop N Block artisan salami, smoked garlic, hot honey, mozza, tomato sauce, fresh basil
Order a growler to go and enjoy our amazing beer from the comfort of your own home. Because who doesn't want to drink beer from a bottle that comes with its own handle?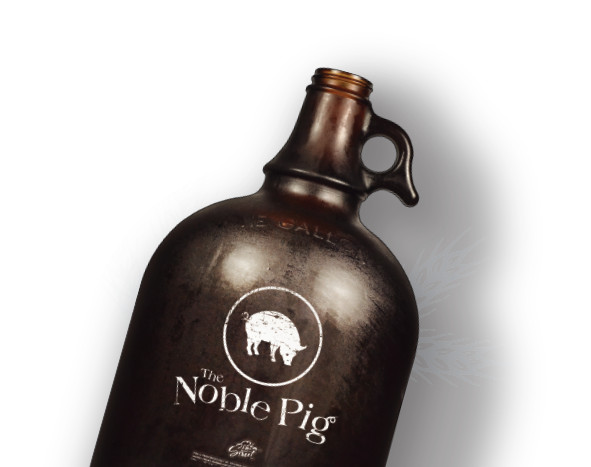 Sandwiches + Burgers
*
Comes with choice of fries, soup or salad. Or upgrade to one of our Sandwich Enhancements below!
Noble Burger
$16.50
Local beef patty, beer mustard, Porter BBQ sauce, greens, tomato, pickled cucumber, red onion
Brewhouse Burger
$21.25
Local beef patty, Gary's double smoked bacon, smoked cheddar, beer mustard, Porter BBQ sauce, pickled cucumber, greens, tomato, red onion
Free Bird
$19.50
Crispy picked fried chicken, hot honey glaze, Gary's double smoked bacon, gochujang mayo, pickled cucumber, kale slaw
Mushroom Cap Burger
$16.75
Creamy smoked garlic & jalapeno stuffed portobello, mozza gratin, pesto & tomato/olive/caper relish
Pulled Pork Sandwich
$16.00
Porter BBQ sauce, double smoked bacon, kale slaw
The Barn Burner
$21.00
Local beef patty, smoked cheddar, candied jalapeno, pickled jalapeno & cucumber, gochujang mayo
Sandwich Sides and Enhancements
Kale Caesar Salad or Kale Slaw

$3.00

 
Classic Poutine

Sm $7.00/Lg $9.00

 
Texan Poutine
Sm $9.00/Lg $12.00
 
Mom's Meatloaf (GF)
$22.00
Bacon wrapped pork & beef meatloaf, broccolini, crispy baby potatoes, apple & grape chutney
Coconut Green Curry (GF)
$20.00
Paneer, chickpeas, bamboo shoots, coconut rice, carrot, bean sprouts, cilantro, papadam, raita
Pad Thai (GF)
$20.25
Paneer, rice noodles, broccolini, bean sprouts, local mushrooms, carrots, Thai chili sauce, fresh cilantro, spiced peanuts
Fish & Chips
1 PC $16.00/2 PC $20.00
Crisp beer battered wild pacific rockfish, tartar sauce, fresh lemon, house fries. Add kale slaw $3.00.
Jerry's Prawn Alfredo
$24.75
Smoked garlic cream, braised greens, Fratelli's fresh rigatoni, toasted breadcrumbs, Grana Padano focaccia garlic toast
Pulled Pork Mac & Cheese
$19.75
BBQ pulled pork, green onions
Flagship Mac
$17.00
Our classic mac with green onions
Truffle & Mushroom Mac & Cheese
$19.75
Local mushrooms, truffle oil, green onions
Granny's Chocolate Cake
$9.00
Almost world famous recipe, salted caramel, cocoa crumble, candied walnuts
G.O.A.T. Cheese Cake (GF)
$9.25
Local goat cheese, cinnamon apples, oat streusel

7 Days A Week
Sun   3:00PM - 11:00PM
Mon-Sat   11:30AM-11:00PM Kitchen until 10PM daily.
DUE TO COVID-19, WALK INS ONLY. To manage our flow of guests in the safest manner in our space we are not accepting reservations at this time. We will have a dedicated team member to greet you & guide you to your table when you arrive.
Copyright The Noble Pig 2018. All rights reserved.