Crispy Pickles
$7
Handmade with Cajun seasoned breading & spicy dill ranch dip.
House Fries
$6 3/4
Fresh-cut Kennebec potatoes. Choice of dipping sauces: pilsner hot sauce, porter bbq sauce, mayo, horseradish mayo, saffron aioli, garlic lime mayo, sriracha lime mayo, beer mustard, tartar, ranch or spicy ranch
Brewmaster's Plate
$18
Pork & duck rillettes, local charcuterie, artisan cheeses, orange/rosemary Audrey, Granny's mustard pickles, pickled vegetables, pear/juniper chutney
Flatbread
$13
Roasted local squash, braised chickpeas, parmesan, goat cheese, harissa, gremolata
Chicken Karaage
$12 3/4
Crispy boneless chicken, togarashi spice & sriracha/lime mayo
Five Cheese Dip
$16
Five cheese & roast cauliflower dip baked with harissa & toasted almonds. Served with warm orange/rosemary Audrey & cucumber wedges
Thai Rib Bites
$13
Chili/lime glaze, sesame, cucumber, cilantro, spicy peanuts
Classic
$10 1/4
Crispy boneless chicken, togarashi spice & sriracha/lime mayo
The Texan
$13 1/4
Classic poutine plus pulled pork & bbq sauce
Loaded Baked Potato Poutine
$13
Classic poutine with Rainer bacon, green onion & smoked paprika crema
Add Yummy Rainer Bacon
$2 1/4
Fresh Bavarian Pretzels & Beer Mustard
$9
Mixed greens, fresh carrot & cucumber, spiced honey trail mix, salted citrus vinaigrette
Gary's Cheesy
Pepperoni Bread
$4 1/2
Served warm with beer mustard
Intergalactic Popcorn
$3
Galaxy hop & malt vinegar salt, evoo
Not So Simple Greens
$9
Mixed greens, fresh carrot & cucumber, spiced honey trail mix, salted citrus vinaigrette
Kale Caesar Salad
$10
Purple & green kale, creamy Caesar dressing, Rainer bacon, croutons & shaved parmesan
Feature Soup
sm/$5 lg/$7
Locally & seasonally inspired. Served with a warm roasted garlic & herb Audrey
Harvest Salad
$14
Warm roasted local squash & golden beets, Rainer bacon, braised chickpeas, goat cheese, almonds, apple/bacon vinaigrette, pear chips
Add Me
Lemon + Herb Chicken Breast
$6
Garlic Butter Prawns
$8
Pan Seared Albacore Tuna
$8
Carnivore
$19 1/2
Sedo's salami, Gary's pepperoni & chorizo, mozzarella, tomato sauce & fresh basil
Herbivore
$18
Portobello mushrooms, mozzarella, goat cheese, pumpkin seed pesto, fresh arugula, truffle oil
Roasted Squash, Chorizo &
Three Cheese
$18 1/2
Pumpkin seed pesto, smoked paprika crema, sage
Order a growler to go and enjoy our amazing beer from the comfort of your own home. Because who doesn't want to drink beer from a bottle that comes with its own handle?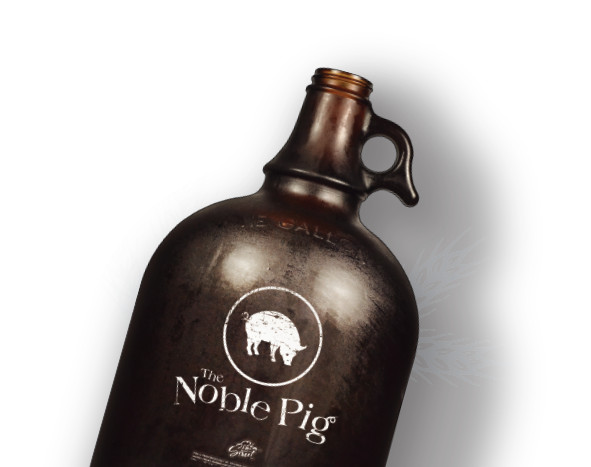 Southwest Pulled Pork Sandwich
$14
Porter BBQ sauce, Rainer back bacon & jalapeno slaw
Veggie Burger
$13 1/2
Chickpea & quinoa patty, lettuce, tomato, red onion, goat cheese, harissa & roasted red pepper pesto
Lamb Burger
$17 1/2
Melted brie, harissa, pear/juniper chutney, lettuce, tomato, red onion
Noble Burger
$14
Local beef patty, beer mustard, porter BBQ sauce, lettuce, tomato & red onion
Harisssa Chicken Burger
$16 3/4
Lemon & herb chicken breast, cucumber, harissa, goat cheese, red onion, arugula, smoked paprika crema
Classic
each/$1
Portobello mushrooms, local goat cheese, shaved parmesan, cheddar
Deluxe
each/$2
Rainer bacon, Rainer back bacon, melted brie
Kale Caesar Salad or
Jalapeno Slaw
$1 1/2
Beef Stroganoff
$19
Tender braised beef cheeks, portobello mushrooms, tagliatelle noodles, Smoked paprika crema, gherkins
Arctic Char
$25
Almond/parmesan crust, chickpea & chorizo ragu, fall vegetables, smoked paprika crema, gremolata
Pad Thai
$17
Buffalo paneer, rice noodles, bean sprouts, mushrooms, carrots, Thai chili sauce, fresh cilantro & spiced peanuts
Sous Vide Pork Chop
$22 3/4
Coffee rub, roasted local potatoes, fall vegetables & pear/juniper jus
Rabbit Cacciatore
$30
Slow cooked rabbit leg, local potatoes, Rainer bacon, mushroom & roasted pepper ragu
Fish & Chips
1pc/ $13 2pc/ $17
Crisp beer battered basa filet, tartar sauce, fresh lemon & house fries
Classic Mac & Cheese
$14
Our classic mac & cheese with green onions
Pulled Pork Mac & Cheese
$16 1/2
Memphis style BBQ pulled pork & green onions
Truffle & Mushroom Mac
& Cheese
$16 1/2
Sautéed portobello mushrooms, green onions & white truffle oil
Mocha Porter Lamb
Tagliatelle
$19 1/2
Lamb ragu, broccolini, golden beets, goat cheese, toasted herb breadcrumbs
Mocha Cheesecake
$8 1/2
Chocolate almond crust, dulce de leche
Pear Yoghurt Cake
$8
Chocolate rum sauce, vanilla yogurt custard, pear chips

Mon/Tues/Wed:
11:30AM - 11:00PM
Thur/Fri/Sat:
11:30AM - 12:00AM
Sunday:
3:00PM - 10:00PM
650 Victoria Street
Kamloops, BC, V2C 2B4
(778) 471-5999
We accept a limited number of reservations per evening up to 6PM. After 6PM it's first come, first served.
Copyright The Noble Pig 2018. All rights reserved.