Intergalactic Pretzels
$5.25
Galaxy hop salt beer mustard
Crispy Pickles
$8.00
Cajun seasoned breading & spicy dill ranch.
Chicken Karaage (GF)
$14.50
Crispy boneless chicken, togarashi spice, sriracha crema
Rosemary & Garlic Dry Ribs (GF)
$14.00
Porter BBQ sauce, lemon
Cast Iron Focaccia
$6.50
Fresh baked daily, EVOO & aged balsamic
House Fries (GF)
$8.00
Fresh-cut & twice cooked kennebec potatoes, house seasoning salt
Crab Cakes
$15.75
Pineapple salsa, sriracha crema, pickled peppers
Stuffed New Yorkies
$15.25
Tender braised beef, horseradish mayo, green onion, mocha porter gravy
Pepper Ale & Smoked Cheddar Dip
$15.25
Served warm, fresh baked pretzels & fococcia
Spiced Lamb Meatballs
$15.50
A Forno on 5th favourite just for you. Tomato sauce, gremolata, mint, goat feta, toasted focaccia
Green Goddess                    Hummus (GF)

$11.25
Marinated chickpeas, EVOO, dukkah, baby cucumber wedges, toasted focaccia
Classic
$11.75
Kennebec potatoes, cheese curds, beer gravy & fresh parsly
Add Yummy Rainer Bacon
$2.50
 
Feature Soup
SM $5.50 LG $7.50
Locally & seasonally inspired. Served with toasted focaccia
Not So Simple Green Salad (GF)
$10.25
Mixed greens, fresh carrot & cucumber, spiced honey trail mix, salted citrus vinaigrette
Kale Caesar Salad (GF)
$12.25
Mixed kale, creamy Caesar dressing, Rainer bacon, croutons, shaved Grana Padano
Sara's Seared Tuna Salad (GF)
$22.25
Seared crusted yellowfin tuna, chickpeas, torn focaccia, cucumber, green beans, goat feta, candied nuts, tahini mint yogurt, citrus vinaigrette
Carnivore
$20.00
Sedo's salami, Gary's pepperoni & andouille sausage, mozzarella, tomato sauce, fresh basil
Herbivore
$19.25
Portobello & cremini mushrooms, mozzarella, goat feta, basil pesto, fresh arugula, truffle oil
Tropical Swine
$19.50
Rainer back bacon, pineapple salsa, tomato sauce, fresh cilantro, lime
Order a growler to go and enjoy our amazing beer from the comfort of your own home. Because who doesn't want to drink beer from a bottle that comes with its own handle?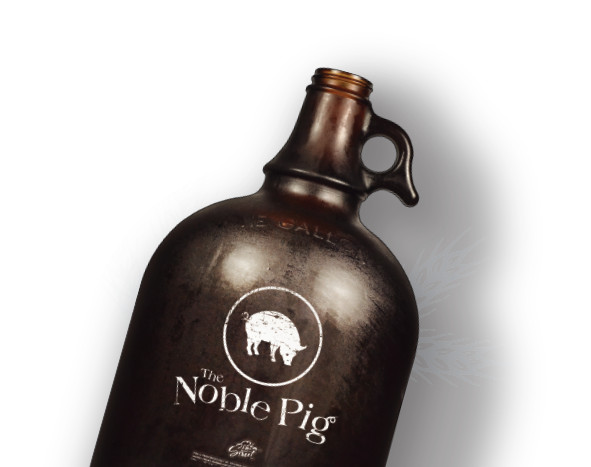 Noble Burger
$15.25
Local beef patty, beer mustard, porter BBQ sauce, greens, tomato, red onion 
Brewhouse Burger
$19.00
Local beef patty, Rainer bacon, smoked cheddar, beer mustard, porter BBQ sauce, house pickles, greens, tomato, red onion
Double Crab Cake Burger
$18.25
Coleslaw, tarter cause, harissa, pickled pepper
Falafel Burger
$14.50
Crispy spiced chickpea patty, cucumber,  goat cheese, tahini mint yogurt, harissa, greens, pickled red onion
Pulled Pork Burger
$14.25
Porter BBQ sauce, Rainer back bacon, coleslaw
Chicken Burger
$18.25
Lemon & herb marinated chicken breast, Rainer back bacon, smoked cheddar, garlic lime mayo, greens, tomato, red onion 
Kale Caesar Salad or
Coleslaw

$2.50

 
Classic Poutine

Sm $4.00/Lg $6.00

 
Texas Poutine
Sm $6.00/Lg $8.00
 
Creole Jambalaya (GF)
$20.50
Prawn, chicken, andouille sausage, tomato, dirty rice & Cajun holy trinity
Beef Stroganoff 
$20.50
16Hr shortrib, creamy mushroom jus, Fratelli's noodles, creme fraiche, house pickles
Pad Thai (GF)
$18.25
Buffalo paneer, rice noodles, bean sprouts, mushrooms, carrots, Thai chili sauce, fresh cilantro, spiced peanuts
Fish & Chips
1 Pc $14.00/2 Pc $18.00
Crisp beer battered wild pacific rockfish filet, tartar sauce, fresh lemon, house fries
Classic Mac & Cheese
$15.50
Our classic mac & cheese with green onions
Truffle & Mushroom Mac & Cheese
$17.25
Sauteed portobello & cremini mushrooms, truffle oil, green oinions
Pulled Pork Mac & Cheese
$17.75
Memphis style BBQ pulled pork, green onions
Granny's Chocolate Cake
$8.25
Almost world famous recipe, espresso anglaise, hazelnut cocoa crumble
Coconut Cream Pie (GF)
$8.00
Coconut custard & meringue graham cracker streusel 

7 Days A Week
3:00PM - 10:00PM
Kitchen Courtesy Call:
9:30PM 
DUE TO COVID-19 WALK INS ONLY. To manage our flow of guests in the safest manner in our space we are not accepting reservations at this time. We will have a dedicated team member to greet you & guide you to your table when you arrive.
Copyright The Noble Pig 2018. All rights reserved.